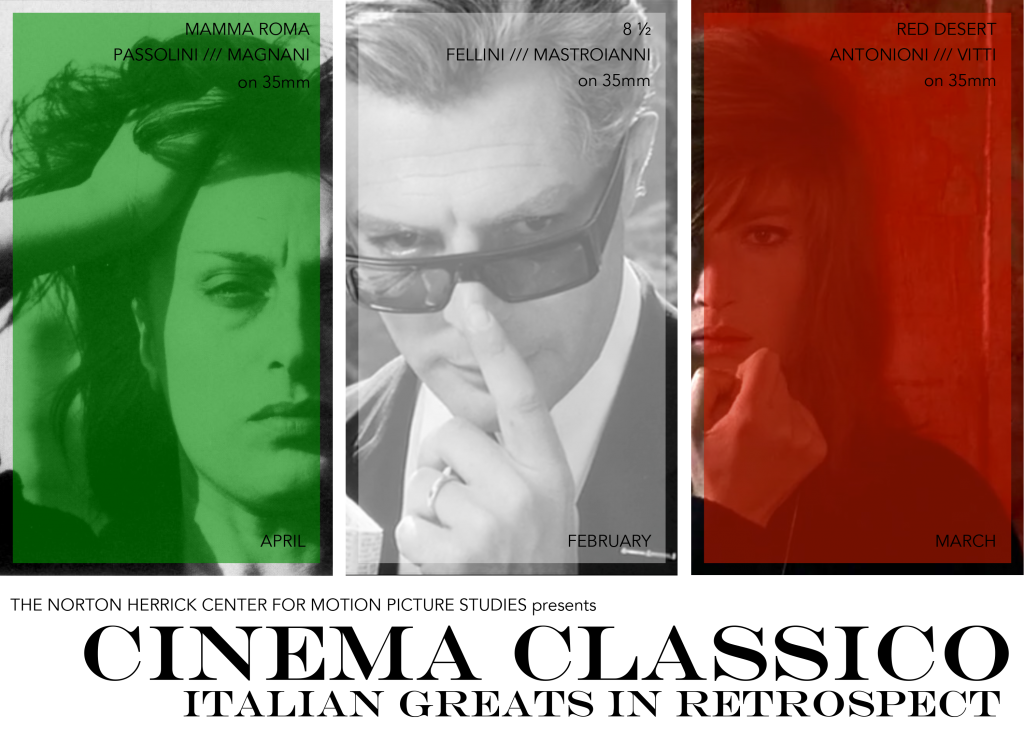 Fresh off of the international success of LA DOLCE VITA, master director Federico Fellini moved into the realm of self-reflexive autobiography with what is widely believed to be his finest and most personal work. Marcello Mastroianni delivers a brilliant performance as Fellini's alter ego Guido Anselmi, a film director overwhelmed by the large-scale production he has undertaken. He finds himself harangued by producers, his wife, and his mistress while he struggles to find the inspiration to finish his film. The stress plunges Guido into an interior world where fantasy and memory impinge on reality. Fellini jumbles narrative logic by freely cutting from flashbacks to dream sequences to the present until it becomes impossible to pry them apart, creating both a psychological portrait of Guido's interior world and the surrealistic, circus-like exterior world that came to be known as "Felliniesque."
Directed by Federico Fellini.
Italy. 138 minutes. 35mm Film.
1964. B+W. Italian with English Subtitles.
About Cinema Classico: Italian Greats in Retrospect
The School of Communication Norton Herrick Center for Motion Picture Studies at the University of Miami presents a new three-event series: CINEMA CLASSICO: ITALIAN GREATS IN RETROSPECT. The archival program begins in February and finishes in April and will be presented solely on 35mm prints at the Bill Cosford Cinema.
The series is anchored by iconic collaborations between director and star in Italian Cinema. Commencing with the ultimate film about film, Federico Fellini and his cinematic surrogate Marcello Mastroianni tackle creative crisis in the classic 8 1/2 (screening February 23 at 5:30pm). The centerpiece film, a Herrick Center holding, RED DESERT marks master Michelangelo Antonioni's first color feature and one of his most celebrated collaborations with muse Monica Vitti (screening March 23 at 5:30pm). CINEMA CLASSICO concludes with Anna Magnani starring in MAMMA ROMA, a part crafted for her by provocative auteur Pier Paolo Pasolini (screening on April 20 at 5:30PM).
The Norton Herrick Center for Motion Picture Studies at the University of Miami is dedicated to the advancement of knowledge of the history, aesthetics and social and cultural impact of motion picture media. A primary mission it to enrich the intellectual and cultural life of South Florida through lectures, seminars and workshops, and screenings.