Cinema Classico: Italian Greats in Retrospect – Michelangelo Antonioni's Red Desert
March 23, 2014 @ 5:30 pm

-

8:00 pm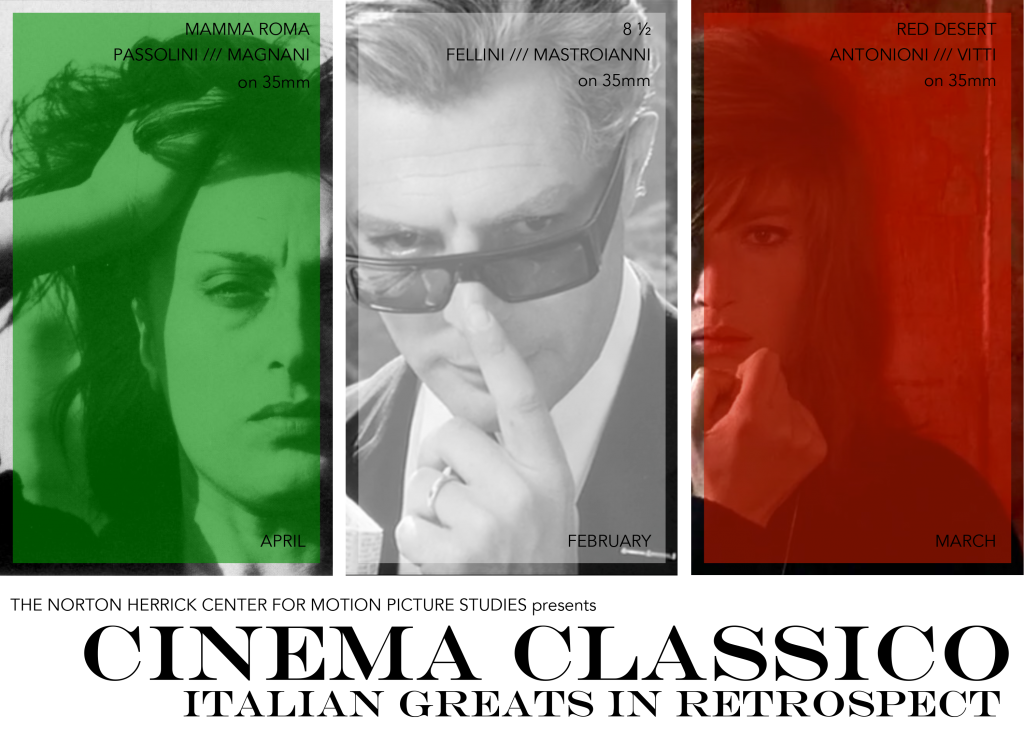 Michelangelo Antonioni's 1960s panoramas of contemporary alienation were helped define the decade, and RED DESERT, his first color film, is perhaps his most epochal. This provocative look at the spiritual desolation of the technological age—about a disaffected woman, brilliantly portrayed by Antonioni muse Monica Vitti, wandering through a bleak industrial landscape beset by power plants and environmental toxins, and tentatively flirting with her husband's coworker, played by Richard Harris—continues to keep viewers spellbound. With one startling, painterly composition after another—of abandoned fishing cottages, electrical towers, looming docked ships—RED DESERT creates a nearly apocalyptic image of its time, and confirms Antonioni as cinema's preeminent poet of the modern age.
Directed by Michelangelo Antonioni.
Italy. 117 minutes. 35mm Film.
1964. Color. Italian with English Subtitles.
About Cinema Classico: Italian Greats in Retrospect
The School of Communication Norton Herrick Center for Motion Picture Studies at the University of Miami presents a new three-event series: CINEMA CLASSICO: ITALIAN GREATS IN RETROSPECT. The archival program begins in February and finishes in April and will be presented solely on 35mm prints at the Bill Cosford Cinema.
The series is anchored by iconic collaborations between director and star in Italian Cinema. Commencing with the ultimate film about film, Federico Fellini and his cinematic surrogate Marcello Mastroianni tackle creative crisis in the classic 8 1/2 (screening February 23 at 5:30pm). The centerpiece film, a Herrick Center holding, RED DESERT marks master Michelangelo Antonioni's first color feature and one of his most celebrated collaborations with muse Monica Vitti (screening March 23 at 5:30pm). CINEMA CLASSICO concludes with Anna Magnani starring in MAMMA ROMA, a part crafted for her by provocative auteur Pier Paolo Pasolini (screening on April 20 at 5:30PM).
The Norton Herrick Center for Motion Picture Studies at the University of Miami is dedicated to the advancement of knowledge of the history, aesthetics and social and cultural impact of motion picture media. A primary mission it to enrich the intellectual and cultural life of South Florida through lectures, seminars and workshops, and screenings.