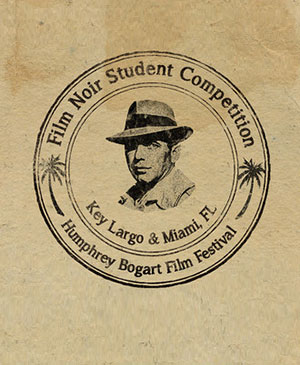 The Humphrey Bogart Estate established the festival to celebrate the legendary actor and his films, along with the craftsmanship and glamour of Old Hollywood. And with the Film Noir Student Shorts Competition, hosted in partnership with the University of Miami's Department of Cinema and Interactive Media, we aim to promote film education and to identify, foster, and celebrate new talent in film noir visual storytelling (both dramas and dark comedies).
The three-day student competition and screenings take place at the University of Miami's Cosford Cinema on the Coral Gables-Miami campus the weekend prior to the classic Bogart film festival in October. The three-day event includes:
* Student short film screenings
* A panel-discussion led by film scholars and local industry professionals on such topics as "Floridian Noir Storytelling" and "Filmmaking in South Florida"
* Networking events/ mixers
* A closing award ceremony
Visit the website at http://www.filmnoircompetition.org/ or Facebook page at https://www.facebook.com/FilmNoirCompetitionBlackSunFoundation/ for more information.